Our Story
Though Payton Jewelry found it's beginnings in 2010, the story began long before then. In 1998 Kristi's daughter Blue was born. Though this was almost a decade before Kristi would begin to pave her way towards building a business, it's here in these moments that she founded the building blocks that would lead to Payton Jewelry. Love, family, & dedication drove her forward.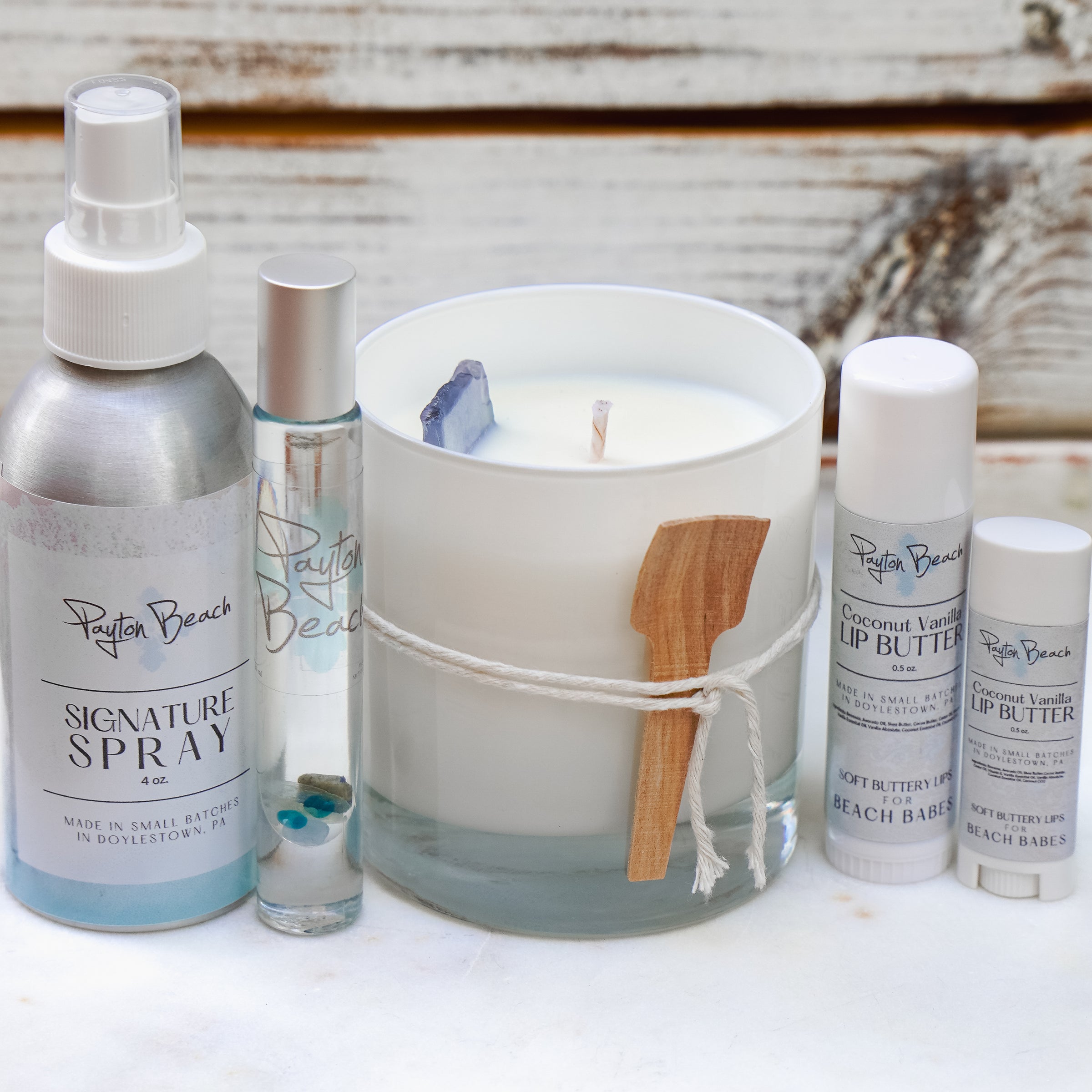 Shop Our
Payton Beach Collection
Our Payton Beach Apothecary line brings the luxurious feeling of the beach into your home. 
Order the entire collection and it comes boxed as a gift!
Shop Now
I have a Payton necklace I bought three years ago. I
literally wear it every day! Shower, beach, sleep and repeat, and it looks like
the first day I bought it!

Samantha
I'm in love with all the beautiful pieces at Payton Jewelry.
😊
Their services is beyond and the expectations will definitely meet your needs!
Anyone that places an order with Payton Jewelry will truly be happy like I am!!
👍

Maritza
During this unprecedented time, I wanted to do my part and
purchase from my favorite small business. And I of once again was not
disappointed. Love my necklaces and earrings. I highly recommend, and if you
can please support during these difficult times, do it. The owner is so hard
working and just a pleasure to do business with. 💙

Lynda
I've been a customer of Payton Jewelry since the beginning
(10+ yrs) and all my pieces still look brand new! You can't beat the quality of
these handcrafted works of art.

Jeanne
I have been shopping with Payton Jewelry for several years
now. The jewelry is top quality and always well made. My nieces get it every
Christmas and I am the #1 aunt. Customer service is important to me and Payton
is at the top of that list when it comes to that. A customer for life.

Roberta
I have purchased quite a few pieces from Payton jewelry over
the years and loved everything... The problem was that so did everyone else. On
more than one occasion I had to give a friend my beautifully "handmade with
love" finds. The owner and her team are so friendly and helpful... they are are
true artist and stylist that will happily assist you with all of your accessory
needs! And we all need some awesome accessories! Thank you girls!💛

Tinq
After an order snafu on our part, Raven immediately looked
into the issue and resolved it quickly. This personalized attention and their
quality products are exactly why I've been a loyal customer for several years.

S
Their jewelry is absolutely beautiful and worth ever penny!
Everyone who works there is so kind including customer service. When I had a
question they responded so quickly and helped. Definitely recommend! Support
small business!!

Sarah
I have been a customer for years and their beautiful jewelry
and wonderful customer service never ceases to amaze me!! They put so much love
and fine craftsmanship in every piece. I will be a forever customer!

Lea